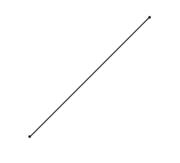 The Straight Line was the first distortion of The Storm. This Ideal (not to be confused with "ideal") was so grand that it became a Prophecy (not to be confused with "prophecy").
The spiraling energy, which is the characteristic of what you call "light," moves in a straight line spiral thus giving spirals an inevitable vector upwards to a more comprehensive beingness with regards to intelligent infinity. Thus, first dimensional beingness strives towards the second-density lessons of a type of awareness which includes growth rather than dissolution or random change.
The energies moved in increasingly intelligent patterns until the individualization of various energies emanating from the creative principle of intelligent infinity became such as to be co-Creators. Thus the so-called physical matter began. The concept of light is instrumental in grasping this great leap of thought as this vibrational distortion of infinity is the building block of that which is known as matter, the light being intelligent and full of energy, thus being the first distortion of intelligent infinity which was called by the creative principle.
This light of love was made to have in its occurrences of being certain characteristics, among them the infinite whole paradoxically described by the straight line, as you would call it. This paradox is responsible for the shape of the various physical illusion entities you call solar systems, galaxies, and planets, all revolving and tending towards the lenticular.